This volume is an all-inclusive guide to the meaning and utility of hundreds of technical terms, concepts and approaches needed to manufacture quality ice cream and other frozen desserts.
Included are scientific principles, technical approaches, and practical "how to" applications of ingredients, mix formulation and processing, freezing methodologies, flavoring and coloring, packaging, distributing, marketing and selling of ice cream, sherbet, sorbet, gelato, frozen yogurts, hybrid products, novelties and many other frozen desserts.
In dozens of long entries and short essays, as well as with original quantitative tables and
graphs, the authors explain the chemistry,
physics, and controllable variables of all phases of ice cream production, use of dairy and non-dairy ingredients, crystallization, dynamics of freezing, overrun management, equipment, flavoring/coloring options, testing and sensory protocols, and much more.
With its helpful system of cross-referencing, the book offers step-by-step details on what must be done to create high-quality, successful products - with pointers on how to avoid dozens of specific defects and pitfalls that can occur during manufacturing and subsequent storage, distribution and sale.
The authors also offer original information for extending product lines and creating new (e.g., health-oriented and hybrid) products.
From the Foreword
"The Guide is a source of not only technical explanations but also offers ideas for new products and processes supported by insightful tables and illustrations and essays on selected hot topics. Drs. Tharp and Young have a unique way of bridging the gaps and connecting the dots among science, technology and commercial reality. As I had expected, this Guide is comprehensive in its coverage, and key terms are fully discussed to clarify complex technical ideas and their applications. It is an essential reference for personnel in the ice cream industry. There is no other book of this kind in the current marketplace."
ARUN KILARA, PH.D.
Adjunct Professor of Food Science, Dept. of Food Nutrition and Bioprocessing Sciences, North Carolina State University; former Director, Penn State Ice Cream Short Course.
Owner/User/Reader Testimonial

"Excellent source of all things ice cream. Very nice! A MUST have!"

… Plant manager, major USA university/teaching creamery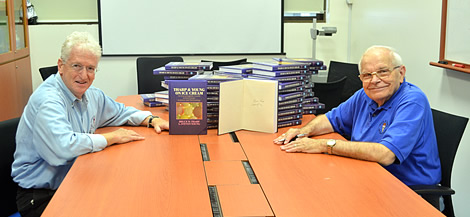 About the Authors
AVAILABLE NOW!

ORDER HERE

- AUTHORS' SPECIAL PRICING: $160.00 USD plus $15.00 USD shipping/handling

- Credit card payments - now accepting American Express, Visa, MasterCard and Discover Cards - email or call for details.

- Multiple (> 5) book orders: Ask for a quote

- SPECIAL SUPPLIER GIFT PROGRAM ... special pricing for bulk purchase of signed books (> 5 books per order) ... Supplier to the ice cream industry? Ask for details.

- A COPY OF THE BOOK IS NOW INCLUDED IN EACH NORTH AMERICAN TYOIC COURSE REGISTRATION FEE.

For course discounts on international TYOIC Editions, see the announcements for those Editions.
Bruce Tharp
(
right above
) and
Steve Young
(
left above
) both operate technical consulting businesses devoted to providing scientific and technical know-how to the ice cream and dairy foods industries throughout the world. Since 1997, they have collaborated in offering an international series of technical short courses on ice cream and frozen desserts.
They also leverage over 100 years of combined academic and industrial experience to bring selected information and troubleshooting pointers presented in the
Encyclopedic Guide
developed from responses to thousands of queries from short course attendees, as well as from the hands-on experience of the authors, both of who have been active in the production of dairy foods their entire lives.
Both of their fathers were dairy product pioneers in their own right.
(Note: Sadly, Dr Bruce Tharp passed away in May 2019).
Readership
Designed as a reference work in its own right, as well as being a companion text to "
Tharp & Young on Ice Cream: Short Course, Workshops, and Clinics
".
Those who would benefit: Engineers, Product Developers, Plant Managers, Operation Supervisors, Marketing and Sales Professionals, Quality Control Specialists in the ice cream, frozen dessert, dairy food products and ingredient industries, as well as in Dip Shop Operators and Equipment/Packaging/Service suppliers to the ice cream industry.
A great book for clients, customers, trainees, and past & current attendees at "
Tharp & Young on Ice Cream
".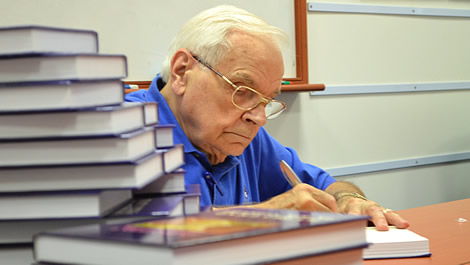 The authors signing copies of "
Tharp & Young On Ice Cream: An Encyclopedic Guide to Ice Cream Science and Technology
".